You are here
News & Events
Top Stories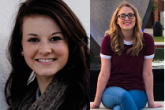 October 1st, 2018
Two psychology students are receiving departmental scholarships for the 2018-2019 academic year. Lauren Short is the...
Read More ➝
October 1st, 2018
Students will have the opportunity to take psychology courses in either the Costa Rica or London study abroad programs...
Read More ➝
August 13th, 2018
Dr. Rex LeBlanc passed away on August 3, 2018. He taught and did research in the area of physiological psychology, and...
Read More ➝
View All News
Upcoming Events