You are here
News & Events
Top Stories
February 23rd, 2018
The Psychology Department is very pleased to introduce our newest Assistant Professor: Dr. Manyu Li. Dr. Li received...
Read More ➝
November 22nd, 2017
Dr. Brooke Breaux and Dr. Yang Yang received awards last week at the Office of the Vice President for Research,...
Read More ➝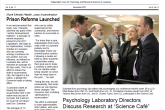 November 8th, 2017
Drs. Smith and MacGyvers made the front page of the most recent of the Psychology Times, a monthly newspaper published...
Read More ➝
View All News
Upcoming Events