You are here
News & Events
Top Stories
May 21st, 2018
May 11, 2018: 55 psychology majors earned their degrees at the Cajundome on Friday May 11. The Department is sure that...
Read More ➝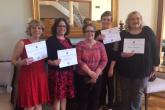 May 3rd, 2018
At a ceremony at the Alumni House on May 2, five psychology faculty were honored with Outstanding Advisor Awards for...
Read More ➝
April 24th, 2018
The Psychology department is saddened by the loss of former professor Rick McWhirter. Dr. McWhirter, a Texas native,...
Read More ➝
View All News
Upcoming Events